Our expert technicians are ready to help you with all of your HVAC needs whenever you need. Read on for more information about our services.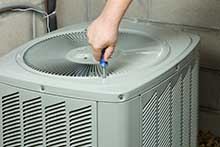 HVAC Cleaning & Maintenance
One of the best ways to ensure that your HVAC unit will last and work efficiently for as long as possible is through regular maintenance. Cleaning and straightening the fins, removing debris, removing dirt from the evaporator coils and changing the blower filters are just a few of the ways our technicians can maintain the longevity of your unit. Not only will this keep it working smoothly, it could also save you money on costly repairs and early replacement.
HVAC Repair
Even with regular cleaning and maintenance, regular wear and tear could occur, causing you to need professional repairs. All types of issues can arise with your HVAC unit, such as problems with the central thermostat or complications that will require the replacement or repair of the furnace or boiler. Whether your problem is minor or major, our team can troubleshoot the issue and resolve it as quickly and as effectively as possible.
Air Quality Testing
A properly working HVAC unit is designed to maintain a consistent temperature and to promote healthy indoor air quality. The unit brings in air from the outside and runs it through its filtration system before expelling it as the air you breathe inside. Regular air quality testing can ensure the air you breathe is not polluted and contaminated. If it is, this might mean your system is clogged and is not properly filtering out the contaminants. Clogged HVAC filters can also reduce the unit's energy efficiency, which means it will make it work harder and you'll spend more money. Don't worry; our technicians can locate the source of the problem and fix it.
Call Us Today
Set up your appointment with our experts at Air Duct Cleaning Westlake Village today! We will find the right solution for all your HVAC related needs so that you'll be free to breathe easily and enjoy clean and fresh indoor air.