If you want to maintain your furnace, you need to get rid of dirt by cleaning your furnace on a regular basis. The parts of a furnace that are most prone to dirt and dust include; the blower, motor and filter system. A dirty furnace consumes more fuel and is less efficient. Moreover, a dirty furnace is more prone to malfunction and overheating.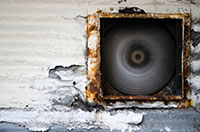 Depending on how dirty your furnace is, you should clean or replace it at the beginning of the cold season/heating season. Moreover, if your furnace is in regular use, ensure that you clean the filter at least once a month in order to get remove any dirt and improve efficiency. There are two types of furnace filters; permanent and disposable filters. Both types of filters have usage and cleaning instructions provided by the manufacturer. By following these instructions, you can ensure that you install the filter properly, after cleaning, so that air flows through the filter in the right direction (toward the blower for the return air ducts).
Before you decide whether to clean or replace a disposable filter, perform a filter check by holding your filter against the light in order to determine whether the filter is dirt-clogged. If that is the case, your best course of action is to replace the filter (even if you have not used it for a long time). However, if the filter is dusty but not clogged, you can remove it and wipe it clean. If you have to replace the filter, you should follow the following steps:
• First of all, you need to identify the filter. If your filter does not have a label, you can identify it by looking for a metal panel on the front side of the furnace located between the ducts and the blower.
• Remove the metal panel/filter by unscrewing it from the furnace housing
• Hold the filter against the light and inspect it to determine how dirty it is- if you ascertain that it is dirt-clogged, replace it by following the manufacturer's instructions
• Clean the blower (including the belts and pulleys that hold the blower in place). In most cases, you can easily access your furnace blower by sliding out the fan unit. Once the blower is clean, clean the motor housing.
Conclusion
If you want to ensure that your furnace works efficiently, always make sure that the blower, motor and filter system are dirt and dust-free. If you do not know how to remove or reinstall parts such as the filter properly, you can hire a profession to clean your furnace regularly since you may have to forfeit the manufacturer's warranty on your furnace if you damage any furnace components.